Back (& Neck) to Basics
Total spine care for your whiplash, sciatica, radiculopathy, acute strains, headaches & more.
All things Orthopedics
Treatment for your rotator cuff, meniscus tears, plantar fasciitis/fasciopathy, tennis elbow, bursitis & more.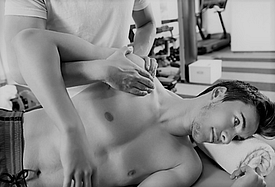 Check Your Head
A must after head injury. Includes specific treatments for post-concussive syndrome (ocular motion guidance, etc) as well as the associated spine & extremity care.
After Baby
OPT knows you are more than just your pelvic floor, and that the do-nothing-for-6 weeks-then-clear-for-everything plan leaves a lot of unanswered questions.
3 ways OPT makes it easier for you
In-Home Visit
Can be added to any service. A approximate 7ftx 7ft clear area on a walk in level in required. Within city limits of Oconomowoc only.
Supplemental Therapy
You already see a chiropractor, massage therapist, trainer, or even another physical therapist. They're great. They've helped you a lot. They may even take your insurance. But you haven't quite got where you want, or you wish they would do something different.
Therapy Example: Your back hurts because you've been walking in a boot. The place you're going to is doing a great job on your ankle, and are a little hesitant to treat your back, because then your ankle might fall behind. What to do? Supplemental care at OPT. Care can be coordinated between us professionals, nobody's feelings are getting hurt.
Wellness Example: You've been working with a trainer & coach, but you've hit a wall. You can get a Athletic Enhancement Assessment at OPT, find out where your weak links are, address them & power through to the next level back with your coach.
Band-Aide Therapy
Because sometimes you know you need more care, I know you need more care…it's just not a good time & you can't "power through" any more. No judgements.