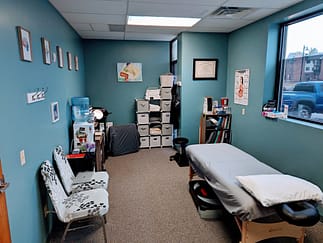 Oconomowoc Physical Therapy can help you take the first step toward returning to being you. We help you get relief so you can get you back to enjoying life's experiences.
We focus on treating patients ages late teens through 50. We listen to your concerns and value your feedback during each session. We primarily use a hands-on/manual approach to help your body heal itself.
We have you covered from head to toe. Below are some symptoms you may experience. If you don't see your symptoms listed below that doesn't mean we can't help, just ask!
Head/Neck: TMJ, headaches, neck pain, whiplash disorders
Shoulder/Arm: rotator cuff dysfunction, laxity/hypermobility/dislocation/subluxations, AC joint pain, radicular arm pain, tennis elbow, golfers elbow
Thoracic Spine: Rib or sternal pain, inflammation of the cartilage that joins the rib bone and breastbone, shoulder blade pain
Hip/Pelvis: impingement, tailbone pain, SIJ dysfunction, chronically weak hip stabilizers
Knee: meniscal injuries (for conservative, non-operative treatment), knee pain,
Foot/Ankle: achilles tendinitis/tendinopathy, plantar fasciitis, ball of the foot pain, posterior tibialis tendinitis
If you have multiple affected body parts, a complex medical history, or simply have come to the conclusion that nothing can be done, Oconomowoc Physical Therapy is for you. Don't see your symptom on the list above? We often treat people whose symptoms don't fit neatly into the above areas.
Visceral Manipulation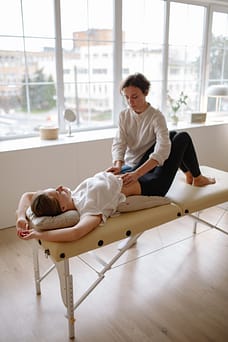 Did you know that restrictions in the tissues around our internal organs can contribute to low back pain, hip impingement, foot pain, amp up our nervous system, and be the source of your primary GI problems like GERD and constipation, (and that's the short list)? Oconomowoc Physical Therapy can help you with that. We evaluate more than your muscles to see how we can heal your body from the inside to reduce pain.
Vocal Therapy
Want to improve hitting those high notes while you're singing? Do you have difficulty when speaking on the phone for a long time? Do you have difficulty swallowing?

Vocal physical therapy can help. We use manual therapy specifically for the larynx, tongue, and other throat structures to help you get your voice back. This treatment is especially useful for those who have post-radiation treatment scarring.
Dry Needling
Do you have acute or chronic pain? Dry needling could help. Dry needling is a procedure that involves a fine needle that penetrates the skin and muscle. Dr. Colella often dry needles the tiny multifidi muscles in the spine which are otherwise too deep to be accessible by any other means. Needling here can help to re-stabilize the spine, as well as affect the neural flow from adjacent nerve roots, which is very helpful in the cases of radicular pain/radiculitis, sciatica. Functional Dry Needling can also help restore the resting tone of a muscle in spasm.
Concussion Management
Did you have a concussion and are still having symptoms of headaches, dizziness, or problems with concentration and memory? Post-concussion systems are more common than you would think.
We can help alleviate your symptoms through physical therapy consisting of:
Oculomotor training (includes exercises that help eye coordination)
Vestibular training (includes exercises that help improve dizziness and balance impairment)
Exercise/activity volume guidelines
Manual therapy, especially for:

the upper spine joints,
tissues around your nervous system,
will likely incorporate dry needling.
Dr. Colella is trained in different types of manual therapy that can help with post-concussion symptoms.
Sports Physical Therapy
Do you feel like you could drive the ball a few yards farther if only you could rotate into your backswing without your knee tweaking? Can you not clear the water surface with your left arm as well as your right in your freestyle stroke? Do you somehow just feel "off" or "imbalanced" when doing your sport?
Oconomowoc Physical Therapy can help. We do a thorough analysis of your movements from squats to push-ups, running gait assessment to balance, and more. We then develop a treatment plan to help you gain an edge in your competition.
Treatment plans include mobility, usually with manual therapy, then helping you incorporate that mobility into your sport through a series of techniques to restore the function of the nerves and muscles which may or may not include a home program with specific motor drills. This is that last 10% step that more traditional physical therapy often discharges you before you can tackle it.
Women's Health
Do you have a low-grade prolapse? Do you have mild-moderate urinary leaking? Do you have a DR (diastasis recti), or midline split in your abdominals?
Especially if any of these are accompanied with back pain, and even if you've already gone through pelvic floor therapy, don't lose hope, there's more that can be done.
At Oconomowoc Physical Therapy, we understand the interrelationships between the pressure systems that your diaphragm has on your pelvic floor, how your uterine ligaments can affect your sacrum, how your intestinal lining can affect your DR, and we use a holistic approach to treat your specific problem. Female internal exams offered, but not required. No biofeedback devices used.
Blood Flow Restriction (BFR)
Have you hit a wall when it comes to strengthening? This is perfect for you if you need to strengthen your knees. Especially if your knees can't tolerate the workload it takes to gain the strength. Oconomowoc Physical Therapy can help by using Blood Flow Restriction therapy. This is a particularly useful treatment after an injury or surgery where you had to be immobilized and are still struggling to make up for that atrophy.
In-Home Concierge Visits (within the City Limits of Oconomowoc)
Would you feel more comfortable having Dr. Colella come to your home? Oconomowoc Physical Therapy offers in-home visits within the city limits of Oconomowoc, Town of Oconomowoc, and is considered on a case-by-case basis. Additional fees apply. Dr. Colella needs a 7 ft x 7 ft open space on a walk-in level in the home.
It's time to take control of your life so you can
start living your best life.