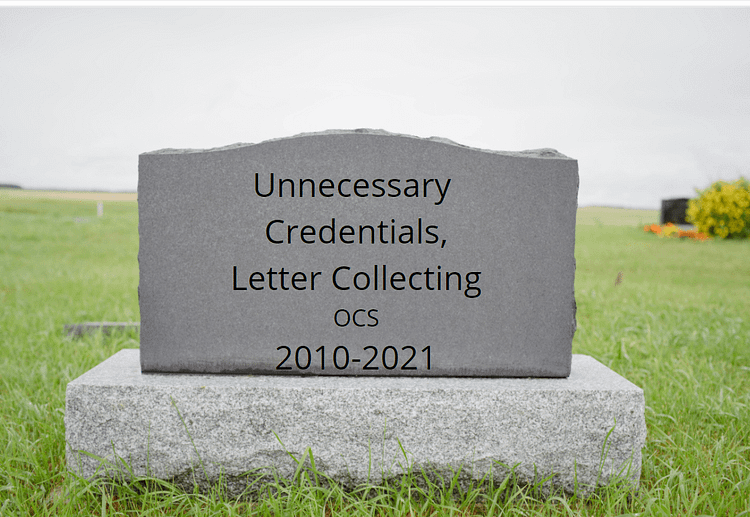 In June 2021, my Orthopedic Clinical Specialist certification earned through the American Board of Physical Therapy Specialists, will lapse, cease to exist, in essence, die.
Overall, I'm glad I got it. In 2010, I was doing traveling therapy and I had no reputation of my own. While I had my doctorate, so did many other job seekers, and I was looking for a way to set me apart, to say, I care about my dedication to my profession and strive to make myself better. It helped me get better/more desirable placements with recruiters, and probably helped me negotiate slightly higher salaries.
You can think about it like the SATs, some people pay a lot of money to get tutoring help for it. I got a year long pack of self-study materials and got to work. There were modules broken down into every body part, much as orthopedics is taught. It was a lot of review from school, which is always good to do, with some more advanced or recently discovered concepts peppered in. The test itself was maybe four hours of sitting in front of a computer. Final thoughts: a lot of money for a piece of paper.
As of 2018, I was one of 300 PTs in the state to hold the OCS designation. In my 11 years of having it, I've had one person seek me out for this designation.
Why I'm not renewing it.
1) While it helped me find some jobs, I don't think it made me a better therapist. I've known amazing therapists who don't have specialties and ones that do that I wouldn't want treating me. I know that makes the job of the health care consumer that much more confusing, but it's true.
2) I've come to value continuing education that focuses on hands-on instruction + book over didactic/book based learning alone.
3) I struggle to call what I primarily do "orthopedics" anymore. Many great practitioners before me, (Jean-Pierre Barral, DO &  Tim Flynn, PT) to name a few, started their careers with heavy emphasis on spinal manipulation, then shifted when they realized a better way to treat the body, that treats it as the complex wonder of nature that it is. For those of you wondering, I would call what I do "neurologic therapy for the orthopedic client." If any of my students are out there reading this, orthopedics is a great, foundational place to start; it's just not the be-all-end-all of everything you need to know to effectively treat bodies.
At the end of the day, if I'm going to have a specialist certification, I want it to reflect the way I practice. So, if someone creates a FWBI "functional whole body integration" specialty, I'm all in. Until then, my DPT, doctor of physical therapy, will just have to be lonely.